"German Secret Service" redirects here. For other intelligence agencies in Germany, see List of intelligence agencies of Germany.
Federal Intelligence Service
Bundesnachrichtendienst

Official agency emblem

Agency overview
Formed
1 April 1956
Preceding agency
Jurisdiction
Government of Germany
Headquarters
BND headquarters, Berlin
Employees
6,500 (2016)
Annual budget
€966.482 million (2019)[1]
Minister responsible
The Federal Intelligence Service (German: Bundesnachrichtendienst; German pronunciation: [ˌbʊndəsˈnaːχʁɪçtnˌdiːnst], BND) is the foreign intelligence agency of Germany, directly subordinated to the Chancellor's Office. The BND headquarters is located in central Berlin and is the world's largest intelligence headquarters. The BND has 300 locations in Germany and foreign countries. In 2016, it employed around 6,500 people, 10% of them Bundeswehr soldiers, who are employed by Amt für Militärkunde (Office for Military Sciences). The budget of the BND for 2019 is € 966.482 million.
…
The domestic secret service counterparts of the BND are the Federal Office for the Protection of the Constitution (Bundesamt für Verfassungsschutz, or BfV) and 16 counterparts at the state level Landesämter für Verfassungsschutz (State Offices for the Protection of the Constitution); there is also a separate military intelligence organisation, the Militärischer Abschirmdienst (MAD, Military Counterintelligence Service).
…
Wikipedia
Eva Braun

Braun in 1942

Born

Eva Anna Paula Braun

6 February 1912

Died
30 April 1945 (aged 33)
Cause of death
Suicide by cyanide poisoning
Other names
Eva Hitler
Occupation
Photographer; office and lab assistant at photography studio of Heinrich Hoffmann
…
Eva Anna Paula Hitler (née Braun; 6 February 1912 – 30 April 1945) was the longtime companion of Adolf Hitler and, for less than 40 hours, his wife. Braun met Hitler in Munich when she was a 17-year-old assistant and model for his personal photographer Heinrich Hoffmann. She began seeing Hitler often about two years later. She attempted suicide twice during their early relationship. By 1936, she was a part of his household at the Berghof near Berchtesgaden and lived a sheltered life throughout World War II. Braun was a photographer, and she took many of the surviving colour photographs and films of Hitler. She was a key figure within Hitler's inner social circle, but did not attend public events with him until mid-1944, when her sister Gretl married Hermann Fegelein, the SS liaison officer on his staff.
As Nazi Germany was collapsing towards the end of the war, Braun swore loyalty to Hitler and went to Berlin to be by his side in the heavily reinforced Führerbunker beneath the Reich Chancellery. As Red Army troops fought their way into the neighbourhood on 29 April 1945, she married Hitler during a brief civil ceremony; she was 33 and he was 56. Less than 40 hours later, they committed suicide together in a sitting room of the bunker, she by biting into a capsule of cyanide, and he by a gunshot to the head. The German public was unaware of Braun's relationship with Hitler until after their deaths.
…
Wikipedia

Permanent visible hair removal …
Braun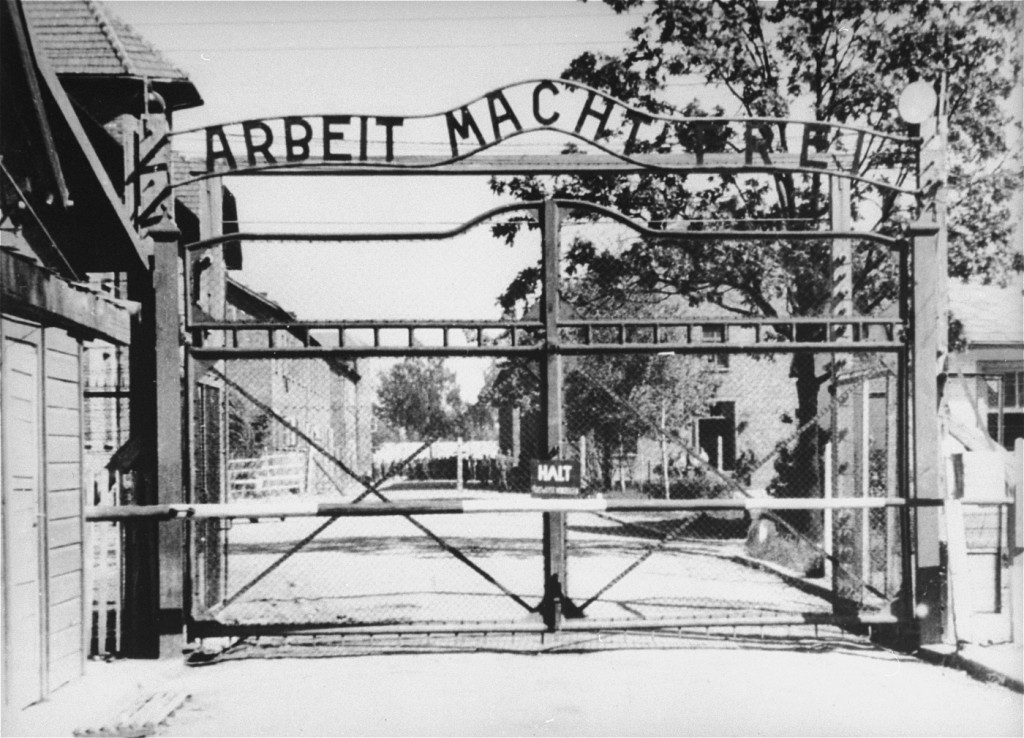 View of the main entrance to the Auschwitz camp
Auschwitz was the largest camp established by the Germans. It was a complex of camps, including a concentration, extermination, and forced-labor camp. It was located near Cracow (Krakow), Poland. Three large camps constituted the Auschwitz camp complex: Auschwitz I, Auschwitz II (Birkenau), and Auschwitz III (Monowitz). More than one million people lost their lives at Auschwitz, nine out of ten of them Jewish. The four largest gas chambers could each hold 2,000 people at one time.A sign over the entrance to the camp read Arbeit macht frei, which means "work makes one free." In actuality, the opposite was true. Labor became another form of genocide that the Nazis called "extermination through work."
Victims who were spared immediate death by being selected for labor were systematically stripped of their individual identities. They had their hair shaved off and a registration number tattooed on their left forearm. …
…
(United States Holocaust Memorial Museum)

FOR THE RECORD.  There's hardly any information on the internet about shaving and gassing; it's almost like it never happened.
[a mouse or a rat:]


(Mormon Church of Satan's Deseret News, January 27, 2014; Birch Lane advertisement: August 20, 2019)
[a mouse or a rat:]

Birch Lane
[This first appeared in a "comic and graphic" magazine; really HILARIOUS!!!:]
Maus
Cover of the first volume of Maus
Maus[a] is a graphic novel by American cartoonist Art Spiegelman, serialized from 1980 to 1991. It depicts Spiegelman interviewing his father about his experiences as a Polish Jew and Holocaust survivor. The work employs postmodernist techniques and represents Jews as mice, Germans as cats, and Poles as pigs. Critics have classified Maus as memoir, biography, history, fiction, autobiography, or a mix of genres. In 1992, it became the first graphic novel to win a Pulitzer Prize (the Special Award in Letters).
…
A three-page strip also called "Maus" that he made in 1972 gave Spiegelman an opportunity to interview his father about his life during World War II. The recorded interviews became the basis for the graphic novel, which Spiegelman began in 1978. He serialized Maus from 1980 until 1991 as an insert in Raw, an avant-garde comics and graphics magazine published by Spiegelman and his wife, Françoise Mouly, who also appears in Maus. A collected volume of the first six chapters that appeared in 1986 brought the book mainstream attention; a second volume collected the remaining chapters in 1991. Maus was one of the first graphic novels to receive significant academic attention in the English-speaking world.
…
Wikipedia [ABSOLUTELY INCREDIBLE!!!]
TITAN, MAUS and Mormon BIG LOVE heart, Sunbelt Rentals
(State Street between Third Avenue and Flatbush Avenue, August 19, 2019.  As an aside, a training session for newly hired FDNY firemen, was in session when I took this picture.  The training was in this building, Khalil Gibran School [I saw the firemen as they were entering the building, and I saw the FDNY school bus, so I asked one of the firemen and he told he told me it is a training session and I of course expressed our appreciation for FDNY [I always say, "we appreciate you, FDNY"; I claim to speak for everybody who appreciates FDNY.)
Khalil Gibran International Academy is a public school in Boerum Hill, Brooklyn, New York City, New York that opened in September 2007 with about 60 sixth grade students. As the first English-Arabic public school in the country to offer a curriculum emphasizing the study of Arabic language and culture,[1] it was placed at the center of controversy by opponents.[2][3] Khalil Gibran, the school's namesake, was a Lebanese–American Christian Maronite poet.
The committee that designed the school included the original principal Debbie Almontaser (a former teacher and community activist) and several nonprofit groups, including Lutheran Medical Center, the American-Arab Anti-Discrimination Committee, the Salaam Club of New York, and the lead partner, the Arab American Family Support Center, a Brooklyn-based nonprofit.[4]
Khalil Gibran International Academy transitioned to a public high school in 2012 and became an IB World School in 2015, making it one of the first public schools in NYC to offer the rigorous IB Diploma Programme.[5]
Wikipedia
[a mouse or a rat:]


(By Lisa Riley Roche, Mormon Church of Satan's Deseret News, January 6, 2016)
Orrin Grant Hatch (born March 22, 1934) is an American attorney, retired politician, and composer who served as a United States Senator from Utah for 42 years (1977–2019). He is the longest-serving Republican U.S. Senator in history and the longest-serving U.S. Senator from Utah in history.
Hatch chaired the Senate Committee on Health, Education, Labor, and Pensions from 1981 to 1987. He also served as chair of the Senate Judiciary Committee and the Senate Finance Committee. On January 3, 2015, after the 114th United States Congress was sworn in, Hatch became President pro tempore of the Senate. He retired in January 2019.
Early life and education
Orrin Grant Hatch was born and raised in Pittsburgh, Pennsylvania.[1] …
…


Hatch with Neil Gorsuch in 2017


Hatch with Brett Kavanaugh in 2018


Hatch with John Roberts in 2005


Hatch with Samuel Alito in 2005
…
Personal life
Hatch married Elaine Hansen on August 28, 1957. They have six children, 23 grandchildren and 14 great-grandchildren.[138]
Hatch is a member of The Church of Jesus Christ of Latter-day Saints (LDS Church). Although he was born in Pennsylvania, his parents had been raised in Utah and he had ancestors who were members of the LDS Church in Nauvoo, Illinois. Hatch served as an LDS mission in what was called the "Great Lakes States Mission" essentially covering large parts of Indiana, Michigan and Ohio. Hatch has since served in various positions in the LDS Church, including as a bishop.[139][140]
Hatch is a founder and co-chair of the Federalist Society, a conservative organization of lawyers.[141]
Hatch serves as a member of the board of directors of the United States Holocaust Memorial Museum.[142]
…
Wikipedia [emphasis added]

Culinary Institute of America [CIA]
Fire Up Your Love For Food
(Mormon Church of Satan's Deseret News, August 18, 2018; CIA advertisement: August 20, 2019)

Braun

Historic Brownstone specialize – Façade, Stoop Restoration NYC
…
bnd1construction.com
(Mormon Church of Satan's Deseret News, August 18, 2018; advertisement: August 20, 2019)

MORE IN FOOD & DRINK


New York Presbyterian


Belleville News Democrat, (BND.com), August 20, 2019
[a variation of RAW's trinity (three in one female, goddess) is showcased on a door on this floor (in addition to the rest of the satanic occult witchcraft Nauvoodoo symbolism including a lot of "holy" crosses and one white angel and one black female angel and one decapitated Jesus; however, I am not allowed to a picture of the variation:]
Research and Analysis Wing (R&AW)
Wing overview
Formed
21 September 1968
Headquarters
CGO Complex, New Delhi, India[1]
The Research and Analysis Wing (R&AW or RAW) (IAST: Anusaṃdhān Aur Viśleṣaṇ Viṅg) is the foreign intelligence agency of India. It was established in 1968 following the intelligence failures of the Sino-Indian War, which persuaded the Government of India to create a specialised, independent agency dedicated to foreign intelligence gathering;[2] previously, both domestic and foreign intelligence had been the purview of the Intelligence Bureau.[3]
During the nine-year tenure of its first Director, Rameshwar Nath Kao, R&AW quickly came to prominence in the global intelligence community, playing a role in major events such as the accession of the state of Sikkim to India.[4] The agency's primary function is gathering foreign intelligence,counter-terrorism,counter-proliferation, advising Indian policymakers, and advancing India's foreign strategic interests.[5][6][7] It is also involved in the security of India's nuclear programme.[8][9] Many foreign analysts consider the R&AW to be an effective organisation and identify it as one of the primary instruments of India's national power.[10][11]
Headquartered in New Delhi, R&AW's current chief is Samant Goel.[12] The head of RAW is designated Secretary (R) in the Cabinet Secretariat, and is under the direct command of the Prime Minister, and reports on an administrative basis to the Cabinet Secretary of India, who reports to the Prime Minister.
Wikipedia

RAW


Brownstone Stoop Restoration
bnd1construction.com
Market Watch, August 20, 2019
THIS IS AN IMPORTANT MESSAGE FROM ME:
NO MORMON MOMENT, MAGIC OF MACY*S, ALADDIN, HARRY POTTER … NO MAGIC/SORCERY/SATANISM CAN PREVENT THE IMPENDING STOCK MARKET CRASH, WORLDWIDE.
THIS IS ANOTHER AN IMPORTANT MESSAGE FROM ME:
No matter how many people think otherwise, Jehovah's Witnesses really is God's visible organization.
The wrath of Jehovah God really is upon the Mormon Church of Satan, no matter how many people think otherwise.
The stock market really is going to crash, worldwide, no matter how many people think otherwise.
No matter how many people think otherwise, Caroline Kennedy will be elected President in the year 2020;
Jim Turner of Texas will be elected Vice President;
Robert Kennedy Jr. will be nominated and confirmed U.S. Attorney General; and,
Robert Mueller will be nominated and confirmed Director of the FBI.
No power on earth has the power to prevent the above prophetic message that I write from becoming reality, not even these four people themselves.  I write under inspiration from and with authority from, God, the true God, Jehovah.
cc all Mormon barristers
THIS IS ANOTHER AN IMPORTANT MESSAGE FROM ME:
Mayor Warren Wilhelm aka Bill de Blasio is the clean-up man, if the Mormon Church of Satan/CIA succeed in their planned nuclear bomb attack on the Hudson River. His administration is already prepared to hold tribunals and immediately execute some of the "troublemakers" (30,000 bananas; nationwide: 30,000 guillotines, to be continued).

Berkshire Hathaway's Brooks Running

Get 30,000 Bonus Points
Wells Fargo
Partial List of Scapegoats, if the Mormon Church of Satan/CIA succeed in their nuclear bomb attack on the Hudson River:
Former President Barack "Hussein" Obama
Former Advisor to the President, Valerie "June" Jarrett
Former Homeland Security Director "Jeh" Johnson
Newark Mayor Ras Baraka
Minnesota Congressman FBI agent Keith "Ellison"
New York Congressman FBI agent Hakim Jeffries
Former leader of the CIA's Black Panthers: FBI agent "Malik Zulu Shabazz"
Former Public Relations Spokesman for the Mormon Church of Satan: FBI agent "Ahmad" Corbitt (recently returned from assignment in the Dominican Republic)


[greasy looking Latino American man and African American man made up to look like former President Barack Hussein Obama wearing Joseph Smith's white shirt] Vivid Seats


[Former presidential candidate Joseph Smith (1844), author of "U.S. Constitution hanging by a thread" prophecy:]
The purpose of this website is to expose the Mormon Church of Satan and all enemies of Jesus Christ the Way the Truth the Life, the Prince of Peace.
This website is also the beginning of a presidential campaign to elect Caroline Kennedy President of the United States. I prayed to Jehovah God to please, by means of His son Christ Jesus, please, arrange national events and world events in such a manner such that Caroline Kennedy is elected President of the United States.  I know Jehovah God hears my prayer and will answer my prayer because that particular prayer of mine is one of my deepest desires and Jehovah God has promised me that he will satisfy all of my deepest desires.  All of the information posted at this website is interconnected; directly connected to the Mormon Church of Satan's illegal sting operation surrounding Jehovah's Witnesses worldwide, and me. The illegal sting operation that encompasses every human being on earth, and has resulted in the LEGAL CASE, unlike any other, ever. The LEGAL CASE, headed to The Hague, Netherlands. cc all Mormon attorneys
As the Storm Approaches,
Maintain Your Focus on Jesus!
(Matthew 14:22-34; Hebrews 12:2)
Concluding talk, Jehovah's Witnesses Convention 2015, worldwide