[I LOVE MY BROTHERS!  I REALLY DO!!]

Brother Sergey Klimov in a courtroom holding cell in May 2019
On November 5, 2019, the Oktyabrsky District Court of Tomsk sentenced Brother Sergey Klimov to six years in prison. Dennis Christensen is the only other brother in Russia to have received a sentence of this length. However, in Brother Klimov's case, the court imposed several additional restrictions, making his the harshest sentence imposed on one of our brothers since the 2017 Supreme Court ban.
Brother Klimov was arrested on June 3, 2018, after law enforcement, including special forces, invaded two homes of Jehovah's Witnesses. Some 30 brothers and sisters, including an 83-year-old sister, were taken away for questioning. All but Brother Klimov were released. Criminal charges were brought against him, and a court ordered that he be placed in pretrial detention for two months. His term was extended seven times, meaning that even before beginning his six-year prison sentence, he has been incarcerated—separated from his wife and family—for a year and five months.
Lawyers for Brother Klimov will appeal his conviction. Additionally, on August 20, 2018, the complaint Klimov v. Russia was filed with the European Court of Human Rights regarding his pretrial detention.
Throughout 2019, we have seen an increase in raids, arrests, and detentions in Russia. Yet, our brothers remain undeterred. We are encouraged by the evidence that Jehovah is blessing our brothers' full confidence in him.—Psalm 56:1-5, 9.
(God's visible organization's JW.org, emphasis added and posted here at my website with permission from some of the CIA-DIA-FBI-Homeland Security agents who are assigned to pretend to be Jehovah's Witnesses.
cc all Mormon barristers
Brother Vladimir Alushkin prior to his arrest and detention
NOVEMBER 13, 2019
RUSSIA
UN Calls on Russia to Release Brother Alushkin
The United Nations (UN) Working Group on Arbitrary Detention (WGAD) has published a 12-page opinion condemning Russia for unlawfully arresting and detaining Brother Vladimir Alushkin. The report calls on Russia to release Brother Alushkin and pay him just compensation for violating his rights.
Brother Alushkin was arrested on July 15, 2018, after nearly a dozen masked police officers with assault rifles forced their way into his home. The officers searched the apartment for almost four hours, seizing cell phones, electronic devices, Bibles, and other literature, before taking him to the investigative directorate for interrogation.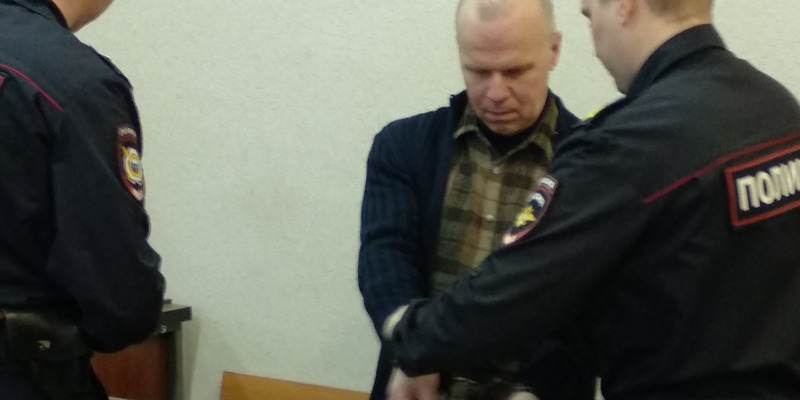 Brother Vladimir Alushkin at the Pervomayskiy District Court of Penza in January 2019
Local authorities kept Brother Alushkin in a temporary holding facility for two days before the Pervomayskiy District Court of Penza ordered his transfer to a pretrial detention center for two months. The court subsequently extended Brother Alushkin's pretrial detention term twice. After spending nearly six months in the detention center, he was transferred to house arrest, where he remains to date.
Seeking to be exonerated and freed, Brother Alushkin appealed to the WGAD. This panel of independent human rights experts, mandated by the UN Human Rights Council, handles individual claims of unlawful police detention or court-ordered house arrest, pretrial detention, and imprisonment.
After reviewing in detail Russia's claim that Brother Alushkin was involved in extremist activity, the WGAD concluded: "All the activities that Mr. Alushkin engaged in were entirely peaceful religious discussions. It is clear to the Working Group that Mr. Alushkin did nothing more than exercise his right to freedom of religion under article 18 of the Covenant [International Covenant on Civil and Political Rights, of which Russia is party to]." Therefore, the opinion states that "the Working Group wishes to emphasize that Mr. Alushkin should not have been arrested and held in pretrial detention and no trial of Mr. Alushkin should take place." Additionally, the WGAD has requested the Russian government to "remedy the situation of Mr. Alushkin without delay," insisting that "the appropriate remedy would be to release Mr. Alushkin immediately."
The WGAD also recognized that Brother Alushkin's case is not unique in Russia. He is "only one of the now ever-growing number of Jehovah's Witnesses in the Russian Federation who have been arrested, detained and charged with criminal activity on the basis of the mere exercise of freedom of religion"—a right protected by international law. Thus, in an effort to condemn the broader persecution of our fellow worshippers in Russia, the WGAD explicitly stated that their opinion applied not only to Brother Alushkin's case but also to all Jehovah's Witnesses who are "in situations similar to that of Mr. Alushkin."
The Russian government has yet to comply with the WGAD's recommendations. Instead, Russian authorities in Penza brought Brother Alushkin's case to trial in August 2019. Hearings are scheduled to continue on November 15, 19, and 22, 2019.
While we hope the Russian court will consider the WGAD's opinion when making its final judgment in Brother Alushkin's case, like the psalmist, our full trust is in Jehovah: "I will not be afraid. . . . Jehovah is on my side as my helper . . . It is better to take refuge in Jehovah."—Psalm 118:6-9.
(God's visible organization's JW.org, emphasis added and posted here at my website with permission from some of the CIA-DIA-FBI-Homeland Security agents who are assigned to pretend to be Jehovah's Witnesses.
cc all Mormon barristers
THIS IS AN IMPORTANT MESSAGE FROM ME:
NO MORMON MOMENT, MAGIC OF MACY*S, ALADDIN, HARRY POTTER … NO MAGIC/SORCERY/SATANISM CAN PREVENT THE IMPENDING STOCK MARKET CRASH, WORLDWIDE.
THIS IS ANOTHER AN IMPORTANT MESSAGE FROM ME:
No matter how many people think otherwise, Jehovah's Witnesses really is God's visible organization.
The wrath of Jehovah God really is upon the Mormon Church of Satan, no matter how many people think otherwise.
The stock market really is going to crash, worldwide, no matter how many people think otherwise.
No matter how many people think otherwise, Caroline Kennedy will be elected President in the year 2020;
Jim Turner of Texas will be elected Vice President;
Robert Kennedy Jr. will be nominated and confirmed U.S. Attorney General; and,
Robert Mueller will be nominated and confirmed Director of the FBI.
No power on earth has the power to prevent the above prophetic message that I write from becoming reality, not even these four people themselves.  I write under inspiration from and with authority from, God, the true God, Jehovah.
cc all Mormon barristers
THIS IS ANOTHER AN IMPORTANT MESSAGE FROM ME:
Mayor Warren Wilhelm aka Bill de Blasio is the clean-up man, if the Mormon Church of Satan/CIA succeed in their planned nuclear bomb attack on the Hudson River. His administration is already prepared to hold tribunals and immediately execute some of the "troublemakers" (30,000 bananas; nationwide: 30,000 guillotines, to be continued).

Berkshire Hathaway's Brooks Running

Get 30,000 Bonus Points
Wells Fargo
Partial List of Scapegoats, if the Mormon Church of Satan/CIA succeed in their nuclear bomb attack on the Hudson River:
Former President Barack "Hussein" Obama
Former Advisor to the President, Valerie "June" Jarrett
Former Homeland Security Director "Jeh" Johnson
Newark Mayor Ras Baraka
Minnesota Congressman FBI agent Keith "Ellison"
New York Congressman FBI agent Hakim Jeffries
Former leader of the CIA's Black Panthers: FBI agent "Malik Zulu Shabazz"
Former Public Relations Spokesman for the Mormon Church of Satan: FBI agent "Ahmad" Corbitt (recently returned from assignment in the Dominican Republic)


[greasy looking Latino American man and African American man made up to look like former President Barack Hussein Obama wearing Joseph Smith's white shirt] Vivid Seats


[Former presidential candidate Joseph Smith (1844), author of "U.S. Constitution hanging by a thread" prophecy:]
The purpose of this website is to expose the Mormon Church of Satan and all enemies of Jesus Christ the Way the Truth the Life, the Prince of Peace.
This website is also the beginning of a presidential campaign to elect Caroline Kennedy President of the United States. I prayed to Jehovah God to please, by means of His son Christ Jesus, please, arrange national events and world events in such a manner such that Caroline Kennedy is elected President of the United States.  I know Jehovah God hears my prayer and will answer my prayer because that particular prayer of mine is one of my deepest desires and Jehovah God has promised me that he will satisfy all of my deepest desires.  All of the information posted at this website is interconnected; directly connected to the Mormon Church of Satan's illegal sting operation surrounding Jehovah's Witnesses worldwide, and me. The illegal sting operation that encompasses every human being on earth, and has resulted in the LEGAL CASE, unlike any other, ever. The LEGAL CASE, headed to The Hague, Netherlands. cc all Mormon attorneys
As the Storm Approaches,
Maintain Your Focus on Jesus!
(Matthew 14:22-34; Hebrews 12:2)
Concluding talk, Jehovah's Witnesses Convention 2015, worldwide